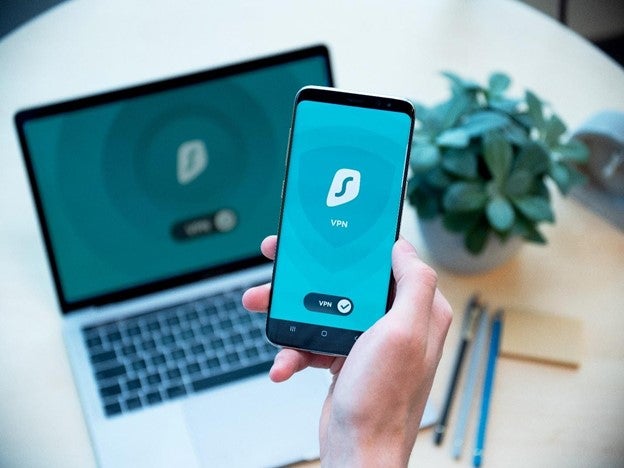 Image source: https://unsplash.com/photos/hIz3vbUbOoI 
Businesses nowadays are more likely to experience cyberattacks. But that's why VPN's were designed – to help limit the access of cybercriminals and hackers and provide more benefits to companies. 
Across the world, businesses are experiencing huge financial losses because of cyber-attacks, such as malwares, phishing, password attacks, and so on. These attacks are compromising thousands, if not millions of people's private info. During the 2017 security break, hackers across the world accessed emails, and over 90 million users' passwords. 
In 2018, cybercriminals stole around &920 million from cryptocurrency exchanges and other platforms. These actions resulted in a global cost of $6 trillion until this year. 
Given these results, small businesses and marketers alike started to look into more innovative and different ways to protect their data. A good solution for this might be virtual private networks (VPN). 
Beside the security reasons, VPNs have many features that make them excellent marketing tools for digital marketers, businesses, and agencies alike. Actually, pretty much everyone should rely on using VPNs or VPN protocols while navigating on the internet. Thus, let's do a quick dive into VPN's features and how to include it in your digital research. 
What you need to know about VPN protocols
The number of people who started to use VPNs started to increase significantly, subscribing for the services of VPN protocols. Perhaps you've heard about VPN protocols, but if not, at the end of this article, you will be able to understand more about this type of security service. 
What is a VPN protocol?
A VPN protocol is a simple security service that helps people, businesses, and marketers to keep data safe. Normally, a VPN protocol creates a tunnel between your computer and the VPN server you are accessing on the internet. Some VPN protocols have specific features that make them better regarding connection speed, user security, and privacy, along other benefits. However, it's worth it to note that some VPN services have included innovativeness into their servers. Thus, you can use two VPN protocols at the same time – one for sending data, and the other for privacy and security. 
Why would a business want to use a VPN protocol?
VPNs allow you to use a virtual IP address, while masking your real IP address in your location. With a VPN, you can avoid geo-restricted accounts by changing your location into the state of your target buyers, clients, home company, etc. So, even if a website is restricted in your country, you and your workers can still access it from anywhere in the world.
VPNs' secure access and the use of virtual IP addresses have many implications on digital marketing, especially for opponent research, client, and search engine marketing. 
VPN protocols are popping up everywhere these days – it's a highly mature technology that was invented by IT professionals looking to offer safety and privacy to users on different websites across the internet. Over the last years, VPN protocols have twisted suddenly and become one of the most popular tools in consumer's life. If you have a company, then a VPN service might be a good investment for you, creating a secure connection to resources you are logging in to. So, adding a VPN service can keep you and your business safe and secure. 
The most common VPN protocols
IKEv2 (internet key exchange version 2) – it is a VPN protocol that was created with lots of efforts by Microsoft and Cisco. These IKE versions were designed as a protocol for data transfer across the internet connections. It is not the most popular VPN protocol, but is a secure one, so you can use it with confidence. 
OpenVPN – it is one of the most famous VPN protocols out there, an improved version out there, specially made to meet the particular needs of consumers. But authentication and strong encryption aren't the only capabilities that OpenVPN has – it can work on Linux, iOS, Android, macOS, Windows, too. 
PPTP – PPTP is short for point-to-point tunneling protocol, which has been used as an outline for creating even more practical protocols. It was first introduced in 1995, and it was a rave at that moment. But VPN technology has evolved much more since then, moving to more secure protocols. 
SSTP (secure socket tunneling protocol) – it is another popular VPN protocol, as this has full integration with every Windows vista SP 1. It's difficult to detect or block, good security, and designers don't have admission to the original code. 
These are just some of the most common VPN protocols, so you must do your research before deciding which one is best suited for your needs. 
Why are VPN protocols important?
VPN protocols are very important for businesses, but not only. Each VPN protocol has its benefits: here are the reasons why VPN protocols are important:
Encryption of client's data

Authentication before access

Proprietary communication rules
VPN protocols will determine exactly how information is directed via connection. These protocols have many specifications which are based on some benefits. For example, some VPN protocols list information via speed, while others concentrate on hiding data packets for security and privacy. If your workers rely on computers, or wireless networks to get their tasks done, there's no other option than using a VPN protocol. 
Conclusion
Hopefully, you've found what you looked for about VPN protocols in this guide. Businesses and online marketers must work beyond geographic barriers often enough, so they must find a way to combat internet censorship in certain parts of the world. Luckily, VPN protocols will help you access any geo-restricted accounts.
With a reliable VPN, you can connect to any server in any country and then access the desired websites. It is also an ideal way to prevent your data from being stolen by hackers who use clever techniques to access your personal information and other important documents on your devices.